In this post, I'll share with you a few bits and pieces about how to organize a gallery wall to show the wall art you have at home.
Why it's worth creating the gallery wall for your wall art. The purpose. All the 'whys'.
Before start reading this post, why not look at my previous article where I touched on creating gallery walls for kids (Look again at The Sky (Collection) kids posters gallery wall)
So in this post first, I would like to focus on the purpose of creating a creative gallery wall. Why the gallery could be useful? Why oh why?
How to create the gallery wall. The look. All the 'how-s'
Second, a few non-canonical rules and tips on what to remember and maybe how to get inspired when creating a gallery wall.
Let's start!
Why it's worth creating the gallery wall
Let's start with the basics. Why do you need a gallery wall? Would you believe, it is not only for aesthetics? Most people need a pretty wall, but that's not all.
For this, you can look at the gallery wall as a personalized space and also as a process. So the question would be: is my gallery wall fun and ongoing family 'art board' with everyone involved?
In the first place, let's look at your options. As a matter of fact, the easiest solution is to get a curated set of prints to suit your space. Also, a set of prints from one collection will do the job. Not only it's an easy option, but also It will give you an organic and harmonious look.
Usually, prints come with frames and hooks so it's just the question of how you fix it on the wall. Easy.
Of course, I would love you to check my wall art collections of prints in Design Home Space Shop for home decor with The Tree Collection or collections for kids' prints. Available with or without frames.
Family project and/or a personal project
Let's come back to the purpose question. And I mean a family project versus your own personal one.
In the case of a family project – although it sounds a bit risky, this could be a fun and memorable process to create a common space with you and your kids. Because having everyone's taste involved could be creative.
On the contrary, in an individual project, you can treat the wall gallery space as your sanctuary, your notebook or your memory altar. And, yes, this could be a bit of space only for you and created by you.
Family fun
As a matter of fact, let's be honest, the fun factor comes only if everyone's interested. In other words, show your kids' drawings, frame them, make them important, make them a real gallery, and make a real show.
Image source: www.dulux.ie
Your own space
In the light of your own project, your own space is for you to show off. Not only your personality, and personal taste but also your background, memories and scrapes of reality that resonate with you. Such as your favourite motivational quote or whatever brings a smile to your face.
Image source: www.dulux.ie
For example, on this simple gallery wall, you have a collection of the motivational quotes, postcards, memories and inspirations.
Just like this one, this could be your personal space, precious especially if you don't have any other corner at home that is yours. Exclusively.
You are the curator. You are the creator.
Image sources: top first and second: www.dulux.ie, last one found at: www.wallpaperfromthe70s.com
How to create the gallery wall
Let's start with a few propositions of what to include in the gallery wall.
If you're taking pictures from your phone, make sure to:
set up your picture setting to high quality. Only HQ pictures will be possible to print in larger formats
to get the cloud memory space as you run out of your gigabytes fast
and take multiple shots
Where to print your photos? list of printing services or local printers:
https://www.photobox.ie
https://www.bootsphoto.ie/photo-printing.html
https://www.snapfish.ie/photo-printing
https://www.pixaprints.ie/
https://www.vistaprint.ie/
Framing services:
There are still a few traditional framing shops around you that provide traditional one-to-one sales and consultation. They usually offer a variety of contemporary and traditional, decorative framing.
Also, there are services available online that provide post deliveries globally:
If you're taking pictures from your phone, make sure to:
take multiple shots
take a variety of shots – people and nature, and also people in nature (use negative space meaning give your photo subject space around). This could be very nice for the gallery wall to show different and mixed perspectives. Show the landscape and the detail.
Image source: https://www.cewe.co.uk/blog/inspiration
One of a kind. Unique objects on a gallery wall
Let's focus on the 'what'
Of course, the list of gallery wall inspirations is endless. So, have a look at the idea board I put here to give you only inspiration to look around your home and see old objects in a new light.
For example, below I put some examples of gallery walls with different objects. Such as the framed silk scarfs and decorative plates. But also you can use some letter shapes, mirrors, hats. Also, original, maybe antique, maybe sentimental objects could be super interesting to expose and show to the world.
Reusing, recycling
Magic word. Recycling
The big question now is before producing something new, maybe you can reuse an object and transform it? Why I'm asking? First of all, it's not that difficult to reuse something you already have. And also it's just common sense and a sustainable move.
So look at the brilliant and funny Banksy's art below. And even if you're not Banksy, maybe you have an old, odd and not too 'trendy' art reproduction at home. Why not look at it with a new perspective and give it a new life with similar quirky alterations?
Artwork in your gallery wall
Yeah, so this famous Banksy's work 'Home Sweet Home' shown here introduced us to the artwork space at home. I know he wasn't rescuing the planet with this work, but look, isn't it genius and practical? My side note here is that I'm not recommending this action for the original (meaning valuable) prints though.
Image source: www.artsy.net
Besides creative alternations to an existing art or art reproduction, you can also welcome new art at home. I'm not going to take on this subject here but I will share a few tips with you here on the free and easy art reproduction to your home space. What is more, legally and practically for free. How?
CC0

Maybe you heard of it before, maybe not. Nevertheless, it's good to know that many museums and galleries share images of their collections for free. For instance, they are shared under the (CC0) Creative Commons Zero licence. So if you see icons CC and 0 next to the image, it means that they can be downloaded in an HD format and used legally (mention museum's credit). And printed too.

Creative Commons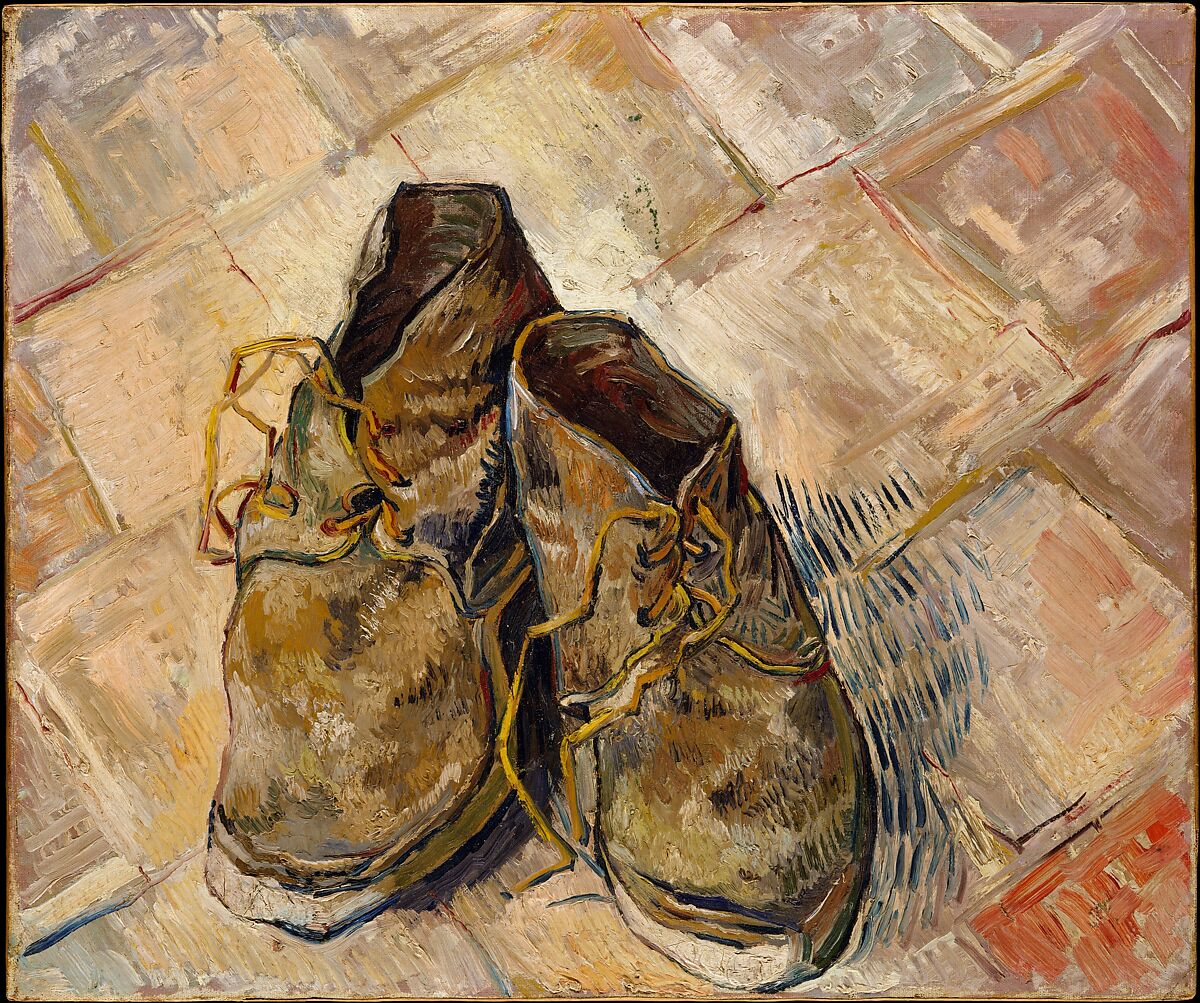 OA licence
Another example of a free licence for art reproduction is OA. For example, the image of Van Gogh, the 'Shoes' painting shown here is available under OA (Open Access) policy. Further to the CC0 license, the OA licence allows you to use the image privately and commercially without infringing the copyright. So for example you can use it in a commercial or office space.
This art piece belongs to the Metropolitan Museum of Art and was sourced from their website.
Ok, That's all from me. I hope you found something interesting for you in this article. Is there anything important I didn't include here? Drop me a line, and post a comment. I would be over the moon if you would share this post with others.
Thank you for reading
Gosia